"The Edinburgh Tenement"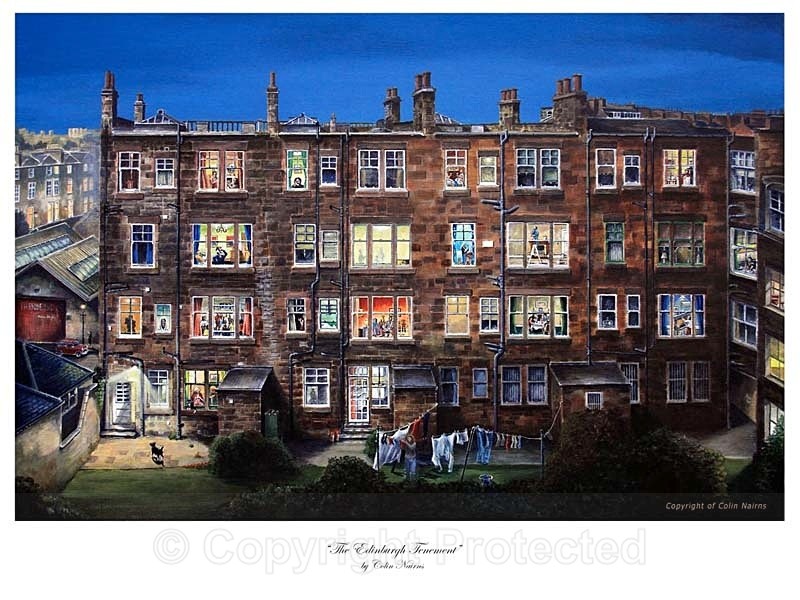 This large painting on canvas, measuring 70cm x 100cm has been put into print and is, I am glad to say proving to be extremely popular. It was painted from the rear of a friend's top floor flat at Haymarket and therefore looks into the rear of the tenement block in the street behind, as dusk falls on a late summer evening. The lights are coming on so we can peer into all the windows and watch what goes on – look out for the decorator, the amorous couple on the top floor, the artist at work, the young mother trying to get her baby off to sleep, the lady taking in her washing before it gets too damp, the party and the man upstairs on the phone complaining about the noise. Meanwhile oblivious to it all, the old lady in the ground floor flat gets on with her knitting by the fire, as her cat sits on the windowsill - fur rising at the sight of the dog that has just set off the security light.

The original canvas is NOW SOLD
Print options are A3 @ £20 or 24"x30" @ £30, either of which can be Double Mounted or fully framed and ready to hang.
FREE LOCAL DELIVERY WITHIN EDINBURGH IS AVAILABLE FOR THE LARGE FRAMED PRINT
"The Edinburgh Tenement"
| | |
| --- | --- |
| | |
Comments
By Virginia Cheetham:
I would like to purchase the Edinburgh Tenement Double mounted and framed, A3 size. Please tell me the total cost? Thanks
By Caroline Whyte (charge nurse):
Hi, I am really interested in buying a few of your framed pictures for my ward and I was given your contact details by David Meikle. Could you send me details of how I can do this. We are also holding a fundraising Race night on 4th June for the ward and wondered if you could offer a prize of one of your prints? you would get lots of publicity at the event! Kind regards Caroline
By Anne Smith:
could you give me aprice for the 24inch x 30 inch Edinburgh Tenement picture unframed and unmounted sent to Dublin? Thanks Anne
By chyrel ramsay:
Hi I really love the Edinburgh Tennement ,i would like to know how i can get this 24x30inch unframed & unmounted .can you help me ?is there a shop i could vist to purchase? thanks Chyrel
By Rhona McNaughton:
Please can you give me a quote for a framed A3 print of the Edinburgh tenement.
By cath kendal:
I have just ordered a print of Edinburgh Tenement as a xmas present for my sister in Penicuik. Please can you tell me how much it would be to have it mounted and framed then posted to Penicuik. As I live in Cheshire this is proving a bit difficult.